EUR/USD Bounces From Lows, But Bearish Bias Persists
EUR/USD bounced from the lows once again ahead of the important Non-Farm Payrolls (NFP) report in the United States but the pair remains bearish.
The EUR/USD currency pair declined in 2021. It started the year above 1.23 and fell to 1.17 and below. The bearish trend is visible on other peer pairs, as the U.S. dollar strengthened this year, somehow strange if we consider the bullish equity markets.
From a technical perspective, the EUR/USD pair finds strong support at the 1.17 area, while 1.19 acts as a key level to the upside. Ahead of the NFP report tomorrow, the pair trades with a bid tone, but the bigger picture remains bearish.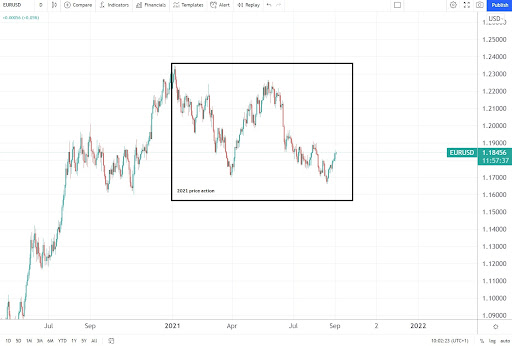 G3 Credit Impulsive Suggests EUR/USD Will Have a Hard Time Advancing
This week brought a number of European Central Bank (ECB) members expressing their worries about the easy monetary conditions in the Euro area. The ECB hawks, as they are called, have all the right to express their concerns. After all, inflation in the Eurozone runs hot. For instance, in Germany, it reached a 10-year high, triggering a shift towards commodity-buying by households. According to recent data, German households bought a record number of gold bars in 2021.
While the recent price action in the EUR/USD pair is bullish, the bigger picture looks bearish. One week ahead of the ECB meeting, the G3 credit impulse suggests that the EUR/USD pair will have a hard time advancing.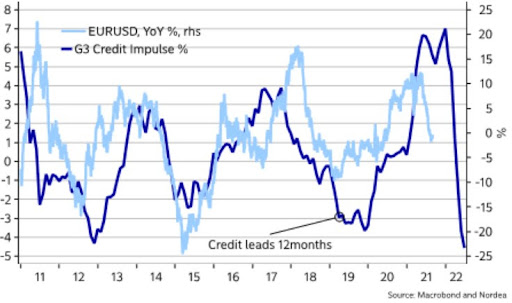 The two are correlated, with the only thing to consider being the fact that the credit impulsive leads by 12 months. Because of that, the bias remains bearish, and investors will likely sell a move into 1.19 triggered by the NFP report.