Will the U.S. Dollar Confirm the Constructive U.S. Outlook in the Coming Months?
The U.S. consumer is in focus in the next few months as the federal boost to unemployment benefits ends this month. Yet, the economic outlook looks bright especially considering the $2.5 trillion of household savings.
September barely started and some investors already worry about the withdrawal of the unemployment benefits scheduled this month. For the rest of the year and the year ahead, it all comes down to the U.S. consumer and its willingness to spend the $2.5 trillion in savings accumulated during the COVID-19 pandemic.
It is likely that the consumer will start spending. Therefore, the U.S. economy is forecasted to grow by over 6% this year and close to 4% the next one.
The removal of the unemployment benefits may look like fiscal tightening, but loose financial conditions remain. First, the Federal Reserve is unlikely to raise the federal reserve funds rate earlier than the second half of 2023. It currently keeps it at the lower boundary, close to zero.
Second, the $3.5 trillion infrastructure plan will keep the loose fiscal conditions in place for the years ahead. As a result, the U.S. economic growth will likely be upgraded rather than downgraded. Anyway, the economy is growing at the fastest pace in the developed world – literally booming.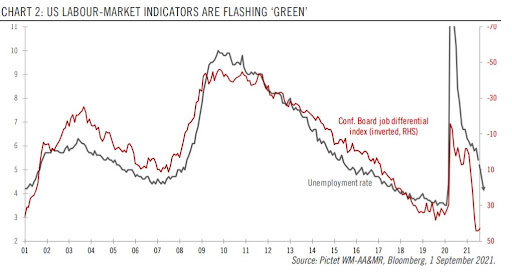 Are you looking for fast-news, hot-tips and market analysis? Sign-up for the Invezz newsletter, today.
What Will the Dollar Do?
Copy link to section
It is said that the currency reflects the economic strength or weakness. This is why currency traders monitor economic data and place trades based on their interpretation of where the economy is going.
Despite the recent weakness in the greenback, as reflected by the EUR/USD or the AUD/USD pair which bounced a couple of hundred points from their recent lows, the U.S. dollar does reflect the booming economic conditions in America.
Sure enough, divergences exist. But, a close look at what happened in 2021 in the currency market tells us one thing and one thing only – the greenback gained against its peers, just like the U.S. economy outperformed its rivals.
Will the trend continue for the rest of the trading year?
Get started in crypto easily by following crypto signals & charts by pro-trader Lisa N Edwards. Sign-up today for easy-to-follow trades for tonnes of altcoins at GSIC.