Strong Beat in August Regarding U.S. Retail Sales
U.S. retail sales data boosted the U.S. dollar. The American consumer is resilient and spends more than expected, fueling economic growth.
One of the biggest surprises over the summer was the U.S. retail sales data for August. The expectations were that the consumers would spend less in August by 0.7%, but the reality differed sharply. In fact, the U.S. consumer is alive and kicking – retail sales increased by 0.7%. Core data, which excludes automobiles, beat expectations too – up +1.8% vs -0.1%.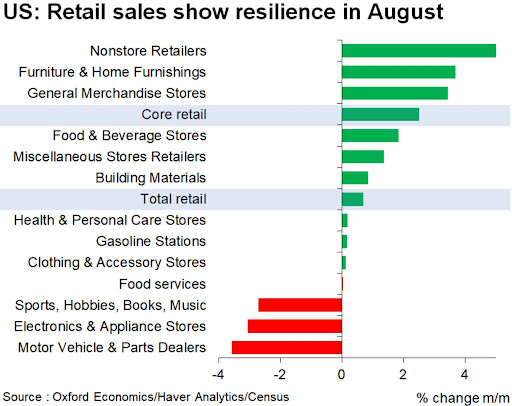 In response to the better than expected data, Goldman Sachs immediately increased its U.S. gross domestic product forecast. Consumer spending sits at the heart of economic growth – without it, economic expansion is impossible. This is what central bankers try to do in difficult times – to stimulate the consumer to spend. Rising consumer spending shows confidence that the economy is on the right track – now growing more than expected.
U.S. Dollar Boosted by Higher Consumer Spending
The U.S. dollar ended the previous trading week at its highs. The EUR/USD pair closed near 1.17, the GBP/USD ended the week close to 1.37, and the Australian dollar suffered against the greenback too.
The sharp move higher for the U.S. dollar came after the retail sales data. Investors are well aware that the largest economy in the world is recovering from the COVID-19 pandemic much faster than its peers, but the August retail sales data took everyone by surprise. Because a currency reflects the economic strength of a country or region, investors reacted by buying the American dollar.
Home furnishings and e-commerce orders led the way up for the retail sales data in August. On the flip side, autos and electronics lagged, down -3.6%, respectively -3% on the month.
To sum up, the news took the market by surprise. To put things into context, retail sales are 18% higher than pre-COVID, and the core sales are even higher – up 20% more. This is not by accident, and the gap between the U.S. economic growth and its peers should further support the dollar's strength.