British Pound Worse Day in a Year Brings It to 10-month Low Against the U.S. Dollar
The British pound has just had the worse day in a year, as empty fuel pumps and grocery shortages bring anxiety among traders. It fell to a 10-month low against the U.S. dollar, and not even a better than expected GDP for the previous quarter could stop the decline.
The trading week was full of stories out of the United Kingdom, highlighting the shortage crisis the population is facing. Endless lines at fuel pumps and empty grocery stores were all over the news.
While blaming the COVID-19 pandemic for the shortage crisis is easy, the truth is somewhere in the middle. Sure enough, the pandemic is responsible for some severe supply bottlenecks. But the damage is also self-inflicted, as the repercussions of the Brexit vote came out.
In continental Europe, there is no such thing as shortages mentioned above. Moreover, because of the new immigration law, the United Kingdom is facing a massive shortage of lorry (i.e., truck) drivers, further fueling the shortages.
The market participants reacted the only way they knew how – by sending the British pound sharply lower across the board.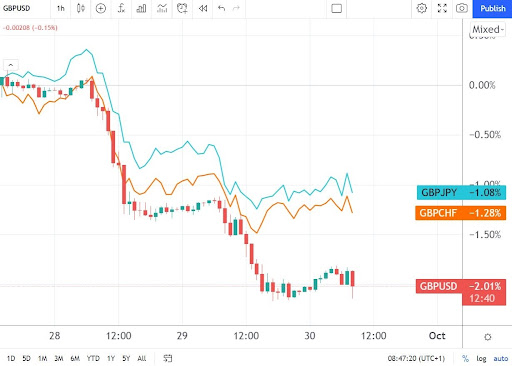 Better Than Expected GDP Data Not Enough to Support the Pound's Decline
Earlier today, the UK GDP data for the previous quarter was released. It came out much better than the market expected, up by 5.5% compared to 4.8% expectations.
Yet, despite the positive data, the pound had a hard time bouncing. In September, it went down against all its peers, reaching a 10-month low against the dollar. Even the Japanese yen, which fell across the board lately, gained against the pound.
With no changes in sight, the pressure is set to continue.