Gold Underperformed in 2021 – What to Expect in 2022?
Gold price is down close to -8% this year, and it has a hard time bouncing from the lows. So what will 2022 bring and what does history tell gold investors?
One of the most curious markets this year was gold. Rising inflation did not bring what many expected – a similar rise in the price of gold. Instead, just the opposite happened – the gold price fell by 8% so far this year, and investors have at least two explanations for the move.
First, the price of gold is depressed by the rise of the U.S. dollar. This, alone, is another anomaly – rising inflation under a stronger currency, a rare environment, but one that is responsible for the bearish gold price action.
Second, monetary policy will tighten in the months/years ahead, so inflation expectations should decline from the current elevated levels. As such, the forecast for the gold price for the rest of 2021 and 2022 is not bullish – just the opposite.
According to a forecast made by ABN AMRO, the price of gold is expected at $1,500 by December 2022, lower than the current $1,750.

How Has Gold Performed Historically?
The forecast from above may scare investors that thought of putting some of their funds into gold, but history favours investment in the precious metal. In the last two decades, gold had only two years with negative returns – 2013 and 2015.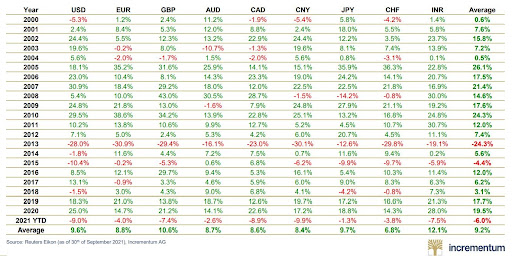 Curiously enough, 2013 was the year when the Fed tapered the asset purchases in the aftermath of the Global Financial Crisis. Will gold end up delivering negative returns in 2021 as the Fed tapers again?