What Happened to the Japanese Yen's Safe-Haven Status?
The Japanese yen weakness was one of the dominant themes in 2021. Did the yen lose its safe-haven status?
One of the basic concepts in currency market trading is that some currencies have a safe-haven status. Effectively, it means that investors sell foreign assets in times of crisis, scared by markets turmoil.
As a direct consequence, the local currency appreciates. For example, Japanese investors sell U.S. equities during market turmoil and convert the proceeds back to the local currency – the Japanese yen. Once the crisis is over, they invest again in U.S. equities, selling the yen and buying the dollars needed to pay for the stocks. This is how a risk-on and a risk-off trade works – a higher USDJPY in bullish equity markets, a lower USDJPY in bearish equity markets.
But the concept has been flawed recently. In fact, it has been flawed for quite some time now, and because of that, traders must pay special attention to the Japanese yen's decline in 2021.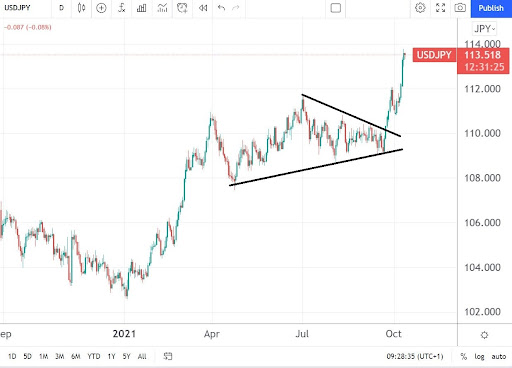 Japanese Investors Purchased Record Foreign Assets During the Last Two Crises
Copy link to section
While the safe-haven status is still an argument for many JPY traders, the reality begs to differ. Not only did Japanese investors not sell their foreign assets during the last two crises, but they invested massively abroad, as reflected by the chart below, showing the Japanese net equity purchases from abroad.
Are you looking for fast-news, hot-tips and market analysis? Sign-up for the Invezz newsletter, today.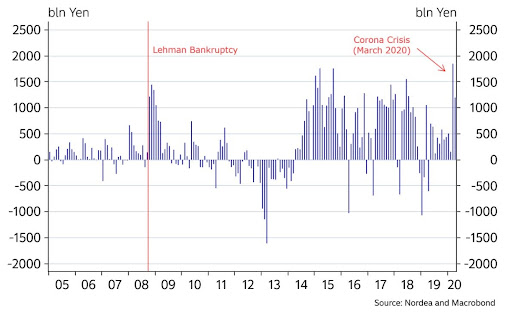 Therefore, the USD/JPY strength in 2021, and thus the JPY weakness, should be taken with a grain of salt. The U.S. stocks did not go anywhere in the past six months, while the USD/JPY rallied like there is no tomorrow. Such a divergence rarely goes unnoticed.
Get started in crypto easily by following crypto signals & charts by pro-trader Lisa N Edwards. Sign-up today for easy-to-follow trades for tonnes of altcoins at GSIC.